Whitefish Bay High School
Class Of 1960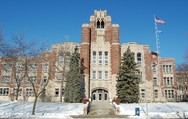 What's New
Happy Birthday Jon! May you have many more! Thanks for the great visit. I hope you got my text with picture. Rusty
Happy Birthday Mike. We are now living near Racine in Franksville. Hope all is well with you!
Ken
Posted on: Dec 18, 2019 at 12:12 PM
Happy Birthday, Lynn!! Celebrate you today!!!
Two days late wishing you a Happy Birthday. I do hope it was a special day for you. Best wishes, Rusty
Happy Birthday Margie! Have a great day and the year ahead! Rusty
Happy Birthday Lynn. Missed seeing you at our reunion!! Ken
Happy Birthday Mike. Hope you are having a good life!! Ken
How are you, Mike? Ki and I are now living in Franksville, WI. Near Racine.
Wishing you a Happy Birthday a bit early. Ken
Margie, Thanks again for all you do for our class. Your update is good to see. Rusty
Posted on: Nov 01, 2021 at 11:12 AM
We missed seeing you at the 2021 reunion at the Town Club. It was a wonderful event! Hope all is well with you and your family! Ken
Hi Tom,
This reunion was smaller but everyone enjoyed the gathering. Missed having your energetic cheerleading for songs and cheers!! How are things in Reno? I moved to Franksville WI a
Nd just getting settled. Ken
Posted on: Apr 08, 2021 at 11:21 AM
Happy Birthday Jim! Yes we will have to get together some time and tip a few. Have a great day. Linda says Hi. We haven't been doing much of anything the past year. However, we did move into a condominium on Phillipii Creek so still on the water. Take care and hope we can get together soon. Fred
Over the recent years Bob has been a great contributor and friend to our reunion committee. We will miss his friendship and gatherings as we plan future reunions. Ken Cook
Posted on: Nov 05, 2020 at 10:57 AM
Happy birthday Marcy !! Are you the same age as me ?? I can' believe I'm 78 years old!!! You wrecked your knee. So did I at Westwood fitness .. a 76 year old woman does not sprint!! The first 2 times I didn't fall. But I am suppose to have surgery in dec. my doctor said I have bone on bone. I use bio freeze and cod oil...dbc
Posted on: Aug 21, 2020 at 9:47 AM
Happy Birthday Joe! The years keep adding up. May we see many more.