Whitefish Bay High School
Class Of 1960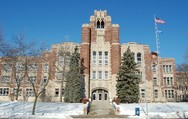 To the members of the Class of 1960: When your names appear on this website, recognizing special moments in your lives, I remember days with you. Of course, what I envision are the faces of you between 1956-1960. As I am not an avid fan of modern technology, I do not venture into all your website could tell me. What I find gives me moments of fond recall. To each of you, my greetings and wishes that all is well in your world.
RIta Ford Guernsey

New Date!
60th Reunion will be
September 11-12, 2020
Heres a drone's eye view of Whitefish Bay:
https://www.youtube.com/watch?v=Hm0EIcb_opA
First time users, look to your left and see the menu board. Click on Classmate Profiles. Scroll down to your name and click on it. Fill in your profile with whatever you want to share. Include at least city and state. Then at the bottom of the page is the level of security you desire. You can keep your entire profile open to the public or you can lock out everyone but member classmates. After that don't forget to hit Save. Then you are in and welcome to your site.
If you have any questions, comments or concerns, please feel free to send us a message by clicking on the 'Contact us" button at the left.