Whitefish Bay High School
Class Of 1960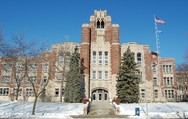 Reunion Survey
Here we go again!
The reunion committee met this week and decided to go forward with having a 60th Reunion Luncheon on Saturday, October 16th.
The luncheon will probably be at the Town Club. That's where our 50th Reunion dinner was held.
So that they can get a better idea of the numbers, we are again asking you to let us know if you think you are coming or not. And if you will be bringing someone with you. Thank you to all who responded so promptly to the June email. Please respond again.
You must be a member to submit this survey. If you are a member please log in first. You can't submit this form until you've logged in.
* Answer Required

1)
* Do you plan to attend the October 16th luncheon?

Yes No
2)
If Yes, will you be bringing someone?

Yes No