Whitefish Bay High School
Class Of 1960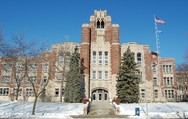 Save the Date!
60th Reunion
Banquet Luncheon
Saturday, October 16, 2021
Our Reunion Committee is Joy Grass, Ken Cook, Bob Shapiro, Dennis Mandel, Carolyn Korona, Lynn Falconer and Marion Snyder.
Some websites that might be of interest:
"Walking tour" of Whitefish Bay:
http://www.wfbvillage.org/DocumentCenter/View/81/Walking-Tour-3-PDF?bidId=
Here's a drone's eye view of Whitefish Bay:
https://www.youtube.com/watch?v=Hm0EIcb_opA
A Public Television show about WFB:
https://www.youtube.com/watch?v=exGy6sHItlo
First time users, look to your left and see the menu board. Click on Classmate Profiles. Scroll down to your name and click on it. Fill in your profile with whatever you want to share. Include at least city and state. Then at the bottom of the page is the level of security you desire. You can keep your entire profile open to the public or you can lock out everyone but member classmates. After that don't forget to hit Save. Then you are in and welcome to your site.
If you have any questions, comments or concerns, please feel free to send us a message by clicking on the 'Contact us" button at the left.
ANNOUNCEMENTS
•

Some news besides the reunion:

Congratulations to Ken Cook and Ki Woo who were married on October 23, 2020. We look forward to meeting Ki at the reunion luncheon.

•

It is with great sadness that I share with you the passing of Joe Driessen on November 7, 2020. A link to his obituary can be found on the In Memory page.

Due to the pandemic, there will no services at this time. You may contribute to the The Charles E. Kubly Foundation at The Charles E. Kubly Foundation, 1341 W. Mequon Road, Suite 220, Mequon, WI 53092 or the charity of your choice. To view and sign the guestbook, please visit www.heritagefuneralchapels.com.