Whitefish Bay High School
Class Of 1960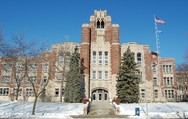 ANNOUNCEMENTS
| | |
| --- | --- |
| • | Thank you to Carolyn Keck Korona, Tom Parsons, Herb McDowell, Tom Zwitter, Alan Pitt, Barry Rumack, Steve Feldman, Sue Bensman Silver, Jon Knopp, Mike Sherson, Betty Bails Duverlie, Beth Grossman Shappiro, Rock Martell, Jim Spooner, Marc Lee, Suzy Blumenfeld Willcoxon, Deborah Taussig Bowman, Carol Feenberg Tuttle, John Munsch, Ruth Tennenbaum, Judy Wilson Haas and Jim Conan for their support of the website. |
| • | This website, which is visited by about 40 different classmates each month, costs individuals nothing. But it does cost the class about $150 per year. The class treasury is very low and we could use your help in keeping the website going. Are you enjoying having this link with your high school years? Please pitch in by sending a check to Marian Snyder, 909 E. Chateau Pl, Whitefish Bay, WI 53217. |
| • | Newsflash: A donation of five dollars or more to the "Website Fund" will entitle you to a free WFB Alumni Directory while supplies last! |
Whitefish Bay 61st Reunion
The Reunion Luncheon was held on October 16, 2021 and attended by 24 alumni and guests. It turned out to be a lovely day, the setting was beautiful and everyone seemed to enjoy themselves.
We missed those of you unable to attend, but actually the size of the group made the day intimate and informal. After an hour of getting re-acquainted, we enjoyed a delicious lunch. Ken Cook then led the group on the singing of the WFB songs and a cheer. The classmates started a conversation around the room in which we all participated.
Everyone who attended received a Class of 1960 Directory, in which we had made an effort to update classmates contact information.
In closing, an announcement was made that we have just about depleted our checking account. Since the WFB Website costs around $100 per year, we asked for donations to keep it running. The website is our one constant means of staying in touch with each other. Several people generously contributed to the cause, but we are asking the rest of you to consider a donation. Checks can be mailed to Marian Snyder, 909 E. Chateau Pl, Whitefish Bay, WI 53217.
Pictures can be seen in a 60th Reunion Album that you can get to by selecting "Class Photos Plus" in the left side column. Enjoy! Hopefully, we will have another opportunity to get together in the future.
Our Reunion Committee is Joy Grass, Ken Cook, Dennis Mandel, Carolyn Korona, Lynn Falconer and Marion Snyder.
Some websites that might be of interest:
Click on the blue lettering to go to the link.
"Walking tour" of Whitefish Bay
Here's a drone's eye view of Whitefish Bay
A Public Television show about WFB
First time users, look to your left and see the menu board. Click on Classmate Profiles. Scroll down to your name and click on it. Fill in your profile with whatever you want to share. Include at least city and state. Then at the bottom of the page is the level of security you desire. You can keep your entire profile open to the public or you can lock out everyone but member classmates. After that don't forget to hit Save. Then you are in and welcome to your site.
If you have any questions, comments or concerns, please feel free to send us a message by clicking on the 'Contact us" button at the left.