Whitefish Bay High School
Class Of 1960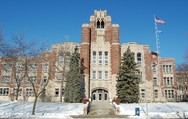 User Forums
Forum: General Discussion

| | |
| --- | --- |
| TOPIC: | News for the 60th Reunion |

| | |
| --- | --- |
| Created on: 07/26/21 04:55 PM | Views: 176 Replies: 1 |

Margie Barclay




Joined: 12/04/10
Posts: 2

View Profile
News for the 60th Reunion
Posted Monday, July 26, 2021 04:55 PM


Here's an invitation to tell your high school friends what's been going on in your life since 2010. First go to the "50th Reunion Bios" in the left column. Reread what you wrote and then come back to User Forums and fill us in!

Margie Barclay




Joined: 12/04/10
Posts: 2

View Profile
Margie Barclay
Posted Thursday, July 29, 2021 07:52 AM


Margie Barclay: Yes, until COVID I've been traveling a lot. Also in the last ten years I've lost my husband, Gil Colgate, to cancer. My elder son, John, married at age 50 and two years later my grandson Evan arrived. Imagine becoming a grandmother at age 77! COVID forced me to sequester which, for me, has had its negatives (no need to dwell on those) and its positivies. I am using the time alone to study, study, study. First, because I continue to live in Mexico, was Spanish, then an art history course online and now I've added German which I studied in high school. In November 2020, my other son, Rob, lived with me in Oaxaca for four months and now I'm in Aspen, Colorado living with him for the summer. It's been over 25 years since I retired. I can't remeber working, nor do I want to. It's been fun taking care of this website and seeing people keeping touch.